The solid wood bed
MOLA
MOLAS special design creates associations of safety and security.
Extra storage space under the bed: you can also make Mola a storage bed. If you equip the bed with the optionally offered full-length beam feet, you can slide our storage drawer under the bed in the wood type of your choice.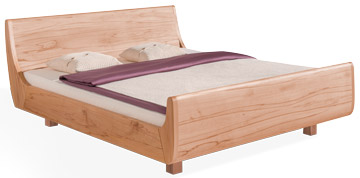 Now also available as Maxi version.
Technical specifications (in cm, approx.)
Interior dimensions widths
90 | 100 | 120 | 140 | 160 | 180 | 200
Inner dimensions lengths
190 | 200 | 210 | 220
External dimensions
Width inside dimension + 8
Length inside dimension + 26
Length with backrest + 26
Frame height
33 (up to 50 freely selectable)1
Frame height Mola Maxi
36 (up to 53 freely selectable)1
Height with
Backrest
79,5* | 96,5**
Lowering of slatted frame
16
Ground clearance
16* | 33**
Admission dormiente sleep systems
Motor frame – System 7
Available wood species
Beech, beech heartwood, oak,
Wild oak, oak/wild oak bianco,
Oak white pigmented, cherry,
Walnut, pine (untreated)
* with foot height 11.0 cm
**Comfort height
1Different dimensions for MOLA
with continuous solid wood feet
Solid wood beds
from the manufactory
Learn more
about the
Production.
Wood care
How to treat
Your upholstered bed
optimal
The technical data

Learn,
What you
need to pay attention.
Certificates to
Upholstered beds