Our 5 values
for healthy sleep
Our sleep products are not just sleep products. They are the result of five core values, all focused on your well-being. With natural materials for comfortable and orthopedic sleeping, electrobiological neutrality, optimal climate regulation and a focus on health and sustainability, we create the conditions for healthy sleep and maximum rest.
Pure relaxation: a mattress that adapts to you
We all know uncomfortable mattresses (unfortunately) – and often just put up with it for several years. And with it insomnia, back pain and less power in everyday life. But it doesn't have to be. Because: The perfect mattress should adapt to your own body shape… and not vice versa. Our 100% natural latex mattresses allow you to do just that. Natural latex has a very special property: it is point elastic and thus takes the shape of your body contour. In the process, it always reliably returns to its original shape. This ensures holding and supporting your body at the same time. These properties also make natural rubber clearly superior to other materials such as cold foams and innerspring cores in terms of ergonomics – because they cannot meet these criteria.
Optimal support and posture of the spine
Natural rubber optimally supports your body and promotes a natural posture of the spine. This individual adjustment ensures that your intervertebral discs are supported without pressure, can regenerate better during sleep and are not stressed by an incorrect posture.
Promotes blood circulation and relaxation of the back muscles
Natural rubber has even more positive effects: Due to the good distribution of your body weight, the individual pressure on body parts such as shoulder or hip is minimized. If the shoulder and hip sink in well, there are no unpleasant pressure points. This promotes blood circulation to the skin and underlying tissues. In addition, the good pressure distribution leads to relaxed and pain-free back muscles.
Support of the natural sleep movements
At the same time, your body is supported by the natural rubber so that your sleeping movements are not hindered. So you can turn effortlessly – so you do not wake up at night and sleep undisturbed through the night.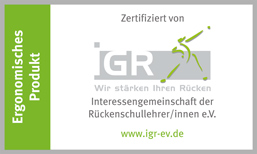 by the way:

The IGR e.V. (Association of back school instructors e.V.) recommends our natural latex mattresses NATURAL CLASSIC ORTHOFORM FEMALE and MALE together with our patented spring wood frame PHYSIOFORM as ERGONOMIC PRODUCTS for the effective regeneration of the spine.
The result of the LGA test was also convincing: 99 out of 100 POSSIBLE POINTS (the ORTHOFORM FEMALE and MALE mattresses were tested here in the size of 90*200cm with standard cover VARIANTE 4).

High-quality natural materials made from renewable raw materials – strictly controlled for harmful substances

No disturbing influences on the harmony feeling, e.g. by electrosmog

high point elasticity for best body adaptation and support of the spine

Optimal climate regulation through the use of the best materials
Natural climate regulation: sleeping climate in balance
Your "bed climate" is largely responsible for whether you feel comfortable in your bed and sleep snugly and undisturbed. The sleeping climate is determined by how moisture is absorbed by the mattress and blanket. If the bed climate is not balanced, sweating or cooling will be the result – and inevitably waking up in the night.
Optimal climate regulation through natural materials
That is why we have built natural climate regulation into our mattress covers by using natural materials such as pure new wool or pure cotton. These materials are naturally able to bind water vapor and insulate well. This puts them well ahead of synthetic materials such as polyester and polyamide.
Good ventilation thanks to natural latex
In the center of the natural mattress, the core made of 100% natural latex has an open-pored structure and provides good ventilation from the inside with vertical air channels. Heat or moisture buildup are no longer a problem.
Prevention of mold growth for a healthy sleep
A healthy sleeping environment not only contributes to a peaceful sleep, but also keeps mold away. Since a good mattress effectively absorbs moisture at night, it stays dry and mold-free – which is essential for your health.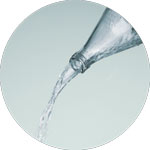 did you know?
that man evaporates up to 750ml of water during the nightly rest ? This is approximately equivalent to a bottle of water.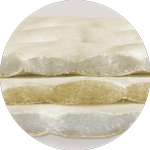 our under quilting
kbA-Cotton
kbT virgin wool
TENCEL®=cellulose

No disturbing influences on the harmony feeling, e.g. by electrosmog

High-quality natural materials made from renewable raw materials – strictly controlled for harmful substances

Optimal climate regulation through the use of the best materials
Natural materials and controlled quality: safe and healthy sleep
Did you know that the average useful life of a mattress is 10 years? Converted, that's 3,650 nights – and thus 3,650 opportunities for healthy and restful sleep. That is why it is important to choose a mattress that perfectly suits your needs and provides you with the optimal support.
Raw material selection and processing: the basis for a high-quality mattress
Among other things, this depends on the selection of raw materials and their processing. The basis of a high-quality mattress are the best materials that are durable and have specific capabilities that matter in a mattress. Only natural and renewable raw materials are processed for a dormiente natural mattress. Their quality is regularly tested for harmful substances by independent institutes.
Made in Germany: quality and know-how
Our natural latex mattresses are made in the heart of Germany, where meticulous craftsmanship and state-of-the-art technology go hand in hand. Our employees combine traditional carpentry and sewing craftsmanship with the benefits of state-of-the-art machinery to produce durable, high-quality sleep products for you.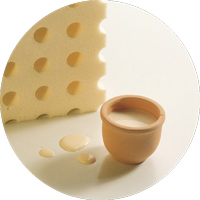 100% natural latex has these excellent properties: high point elasticity for orthopedically correct lying, open-pored structure for good ventilation, and high permanent elasticity for effective, long durability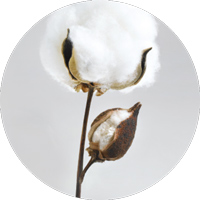 We use pure organic cotton for the cover fabrics of our natural mattresses, as elastic knitted fabrics or as stable ticking. (kbA: no pesticides and other agricultural sprays).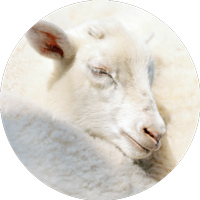 PURE WOOL from certified organic livestock (kbT) offers best moisture absorption and release, high heat retention, insulates and is quite elastic. The virgin wool used comes from a GOTS certified farm.
We even use such virgin wool to upholster our sofa beds and natural box spring beds, instead of cheaper polyester wadding.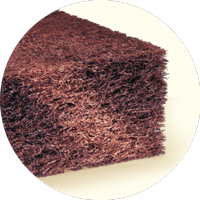 LATEXED COCO This natural material, when used wisely, offers high breathability, firm lying properties, good ventilation and flexible core structures. We use the latexed coconut in our mattress core with firm firmness grades.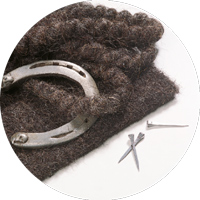 PREMIUM ROSSHAIR Anti-rheumatic properties, elasticity and good climate regulation are the main advantages of this fine natural material. For people who sweat heavily, it is particularly suitable, especially in the natural mattress.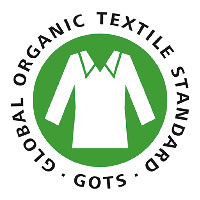 Our virgin wool and almost all fabrics (except decorative fabrics) come from a GOTS (Global Organic Textile Standard) certified farm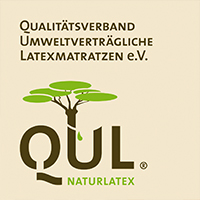 Our natural latex mattresses are certified and tested according to the regulations of QUL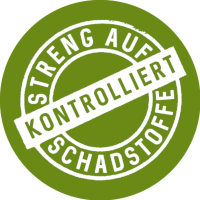 High-quality natural materials made from renewable raw materials – strictly controlled for harmful substances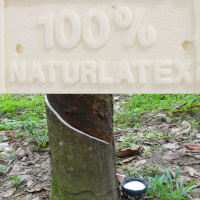 The production methods of the natural latex used are certified according to the Fair Trade criteria
Electrobiological neutrality: wake up relaxed
Almost all common box spring beds and spring mattresses contain metal springs. And these metal springs in the mattress change electromagnetic fields. As a result, they can put the body's defenses in a permanent state of stress. Even fields of low strength influence the sensitive processes in our brain, which works with minimal electrical impulses. If you continuously expose yourself to such a field during sleep, complaints such as insomnia, headaches and tension, and even night sweats can be the result.
The antenna effect: How mattresses with spring core negatively affect your sleep quality
In box spring beds and mattresses with spring core, a so-called antenna effect occurs. This means that if there is an electrical device in the immediate vicinity of an innerspring bed with metal springs, the metal spring construction may couple in the electrical or magnetic field. Not only that, it can also make this tension effective throughout the bed. Measurement results often prove much too high tensions in such mattresses. Your body then finds it particularly difficult to relax and sleep soundly.
Carefree sleep: our natural mattresses without metal components
Our natural mattresses do not contain metal parts such as metal springs. This makes them electrobiologically neutral, which eliminates unwanted electrosmog. This enables undisturbed, restful sleep and promotes general well-being. Possible disturbing factors are minimized so that you wake up every day rested and full of energy.

Did you know that almost all common box spring beds contain metal springs?
Here you can find box spring and upholstered system beds that are free of metal springs.

No disturbing influences on the harmony feeling, e.g. by electrosmog

High-quality natural materials made from renewable raw materials – strictly controlled for harmful substances

Optimal climate regulation through the use of the best materials
Health and sustainability as a priority
Our natural mattresses are made of natural rubber, a renewable resource. The good thing about natural mattresses is not only their outstanding properties for healthy sleep. Compared to synthetic and petroleum-based cold foam mattresses, they have several sustainable advantages.
Natural latex: sustainability and health benefits
The energy required to produce a natural latex mattress is about 10% compared to the energy required to produce a synthetic mattress (cold foam). In addition, natural latex is completely free of CFCs and solvents, as well as chemical plasticizers.
Environmental protection: natural latex and its positive effects on nature
Natural latex has a great advantage: it is a vegetable raw material that grows back. The natural rubber is obtained from rubber tree plantations. The trees bind the greenhouse gas CO2 and produce the oxygen we need to breathe. Thus, natural latex also contributes to environmental friendliness.
Other dormiente materials, such as our cotton, also come from controlled organic cultivation (kbA). Other materials, such as virgin wool, are sourced from certified organic animal husbandry (kbT). To ensure the high standards, we regularly check the animal husbandry as well as the cultivation of raw materials and the working conditions of our suppliers on site.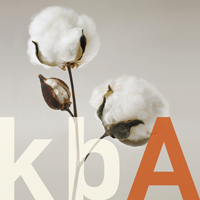 The cotton used is also from controlled organic cultivation (kbA). In addition to the pure fiber, the gentle, controlled organic cultivation strengthens the soil and the atmosphere. Despite cultivation as a monoculture, there is a significantly higher biodiversity in and on the ground, as well as clean water. In addition, the guidelines of controlled organic cultivation also bring about more humane and socially acceptable living conditions for the people who do the growing.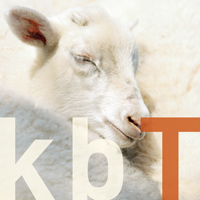 Virgin wool from certified organic animal husbandry (kbT) is super cozy. The virgin wool used comes from a GOTS (Global Organic Textile Standard) certified farm. The sheep are kept in a species-appropriate manner and thank you with a virgin wool of the highest quality. Excellent climate regulation is the main feature that you feel immediately in bed. Controlled organic livestock pays attention to both husbandry and feeding, so you can be sure that the wool of animals kept in this way is clean. Our own tests by the Eco Institute in Cologne have confirmed this.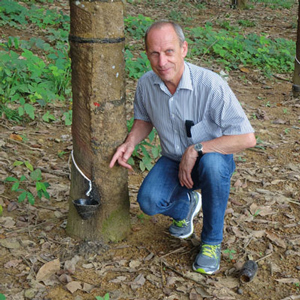 ON THE SITE we regularly check the cultivation and working conditions of our suppliers. Here Dr. Plänker at our supplier's rubber plantation in Sri Lanka in 2014.

Sustainable action for a healthier life – everywhere !