Wood care and grain of our solid wood beds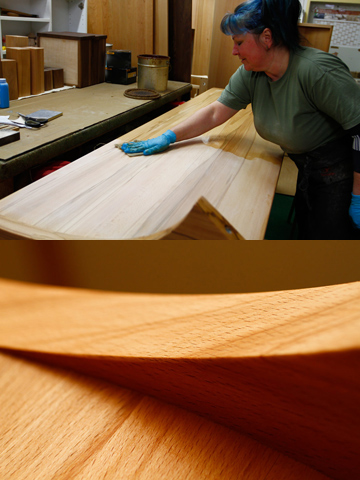 Wood care for beautiful solid wood
We especially recommend oiled wood surfaces for our solid wood beds. Firstly, for optical reasons, because naturally grown wood gets its own individual and incomparable aesthetics through the oil treatment, and secondly, because the solid wood bed becomes very easy to care for.
You can easily repair small dents or abrasions on the bed frame themselves by fine sanding by hand and then applying oil quickly afterwards. If you don't have any wood oil at hand, you can apply some olive oil to the surface of your natural bed with a cloth.
The wood image: the grain of our solid wood beds
Wood is a natural product. Trees live and are therefore naturally exposed to environmental influences such as weather, soil conditions or special climatic conditions. They also have to cope with difficult situations in their lives, such as drought, excess water or pest infestation. All this leads to the fact that no two trees are alike, this also applies to the wood texture and appearance.
There are color differences in the wood, different grains and inclusions in the wood, knots are visible. This gives each bed, which is built of solid wood, its unique character. We cannot influence this, so no two solid wood beds in our shop are alike, even if the same type of wood is chosen. To make certain widths of beds, it is inevitable to glue pieces of wood together, and then you can see differences in the appearance of wood. For us, this is an expression of individuality and natural beauty.
We draw your attention to this fact because it has sometimes irritated or displeased one of our customers. Wood grows as it wants – and this is not subject to our influence – we also do not consider this as a reason for complaint. If you want to have a completely uniform image in the wood, but it is better to use synthetic wood material, which is foiled. Here the picture is consistent.